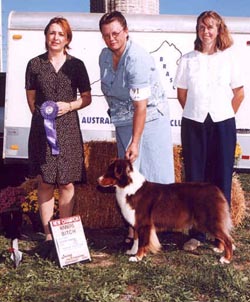 AKC/ASCA/UKC CH Outlaws Sassy Britches, UKC/ASCA-Premier/AKC Ch., CGC, HCT, JV-N, NJP, NAP, AKC/ASCA CD, RN -   (one leg STDs, one leg JV-O)

Sassy is absolutely one of the most awesome dogs I have ever produced. She finished her AKC and ASCA Championships quite easily, especially for a red! Then in 3 straight shows she earns her UKC CH. I am most proud of her Premier at the 2003 ASCA Nationals pre-show. She is owned and trained by my friend, Dottie Bumb, who has her actively training and competing in obedience, agility and stock. In three tries, Sassy obtained all three legs towards her ASCA CD. This beautiful dog has an awesome attitude and I fully expect her to be OUTLAWS first VCH.

Outlaws She's A Heartbreaker, ASCA CD, AKC NA, NADAC, NJC, NAJ, STANDARD EXCELLENT

"Quinn"

Quinn is a powerhouse. Focused, intense, a bullet on the agility course. Owned, loved and trained by Peggy Faith, keep an eye out for these two. They've just gotten started.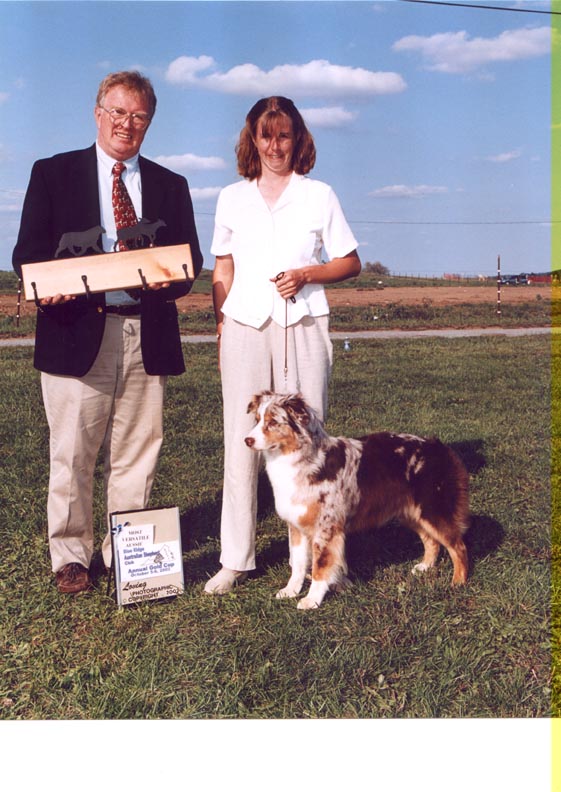 Outlaws Dirty Little Grub, CGC, DNA-cp, STDsd, JHD, CD(ASCA), RN, OJP, NAP, JV-E, ASCA/AKC ptd,  DNA-CP

"Belle"

This beautiful red-merle girl is doing it all. Pointed AKC and now competing in the ASCA Altered program, she is also actively competing in agility as well as stock. She already has one MVA under her belt with many more to come as well as her ASCA CD. Belle is also owned, loved and trained by Dottie Bumb.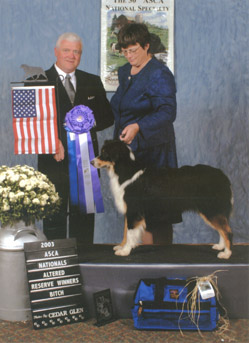 Outlaws Dirty Little Secret, CGC, HCT, NAJ, NJC, JS-N, Alt.ASCA ptd. -     (one leg RN, one leg RS-N)

"Secret"

Affectionately known as "the beast", Secret is an awesome young girl. Actively training for the agility ring, Secret has shown great aptitude for obedience and stock as well. She was very proudly handled by her breeder (Me!) to a ALT. Reserve Winners  at the 2003 ASCA Nationals under respected Breeder Judge Rick Pittman. Secret is also owned and trained by Dottie Bumb.

FLASH!!!

Sassy earns her AKC CD 3/19/06 Way to go Sassy and Dottie

FLASH!!! Belle earns her JV-N with a first and second place

UKC/ASCA CH Outlaws Trademark, CGC

"Sidney"

This gorgeous bitch is owned by Trademark Aussies in Elizabeth, CO. At just one year of age, Sidney was RWB to a 5 pt major while totally out of coat. She is also hell on wheels in the sheep pen! Watch for her in the coming months.

We're thrilled to announce that Sydney is now UKC CH Outlaws Trademark! In just one weekend, Sydney earned all points necessary for her CHAMPIONSHIP.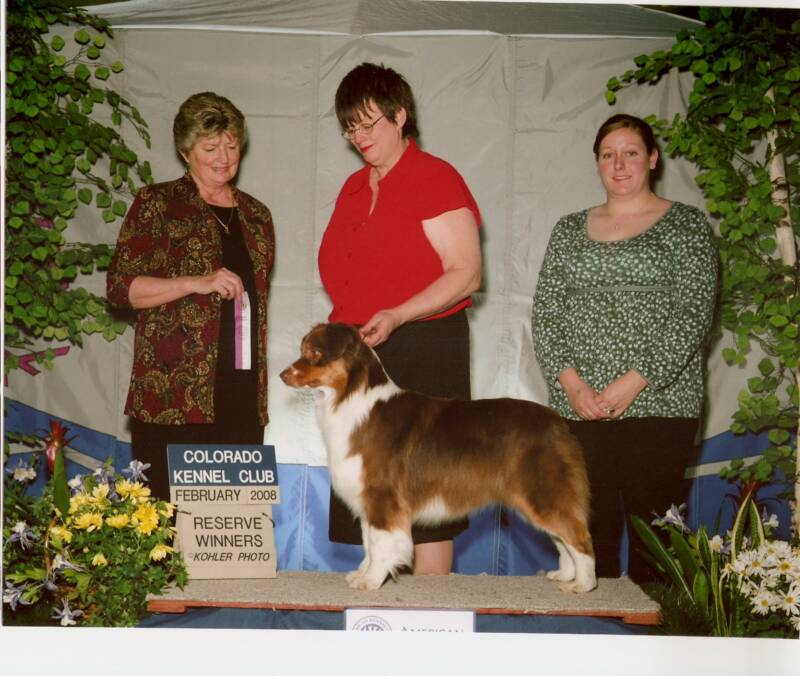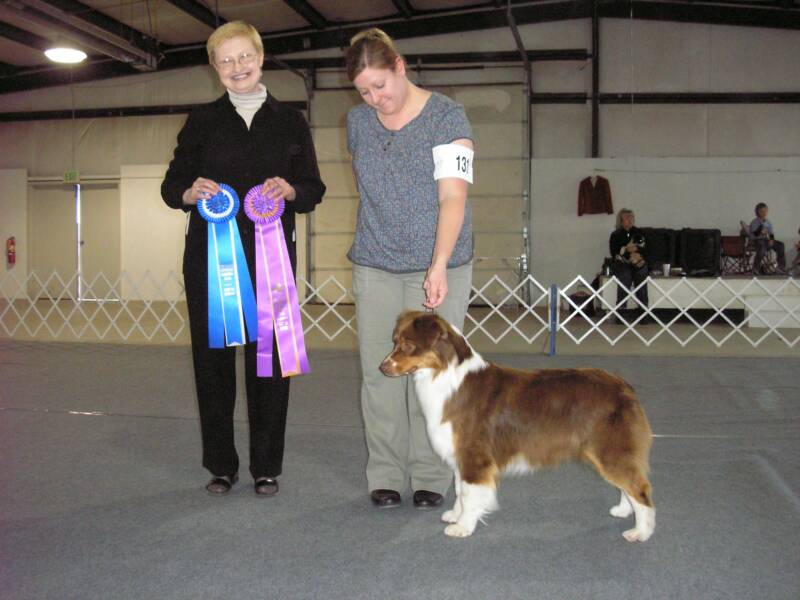 Sydney continues her winning streak winning WB/BOW/BOB over Speicals March 30, 2008 under Breeder Jundge Jan Mattson for a 3 point major! Way to go Syd and Kristen.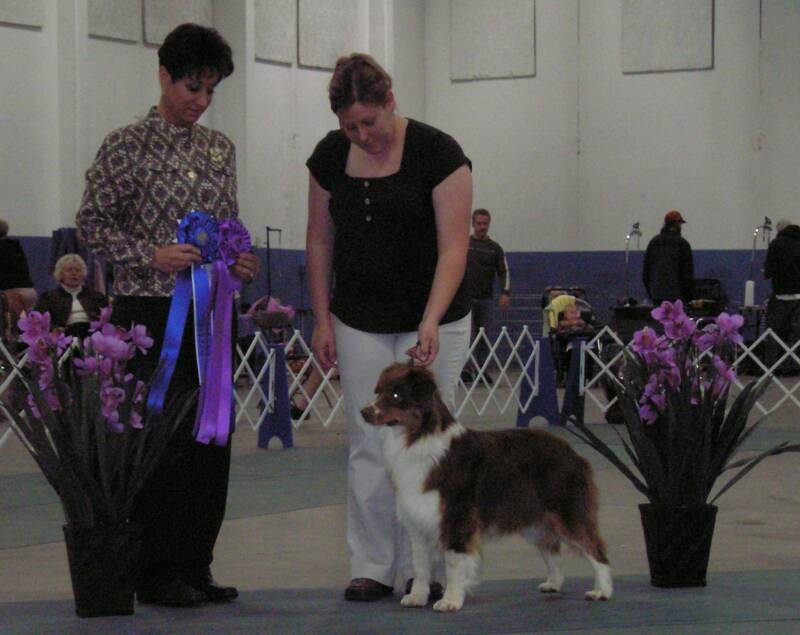 Sidney does it again! Defeating 45 bitchs, Sidney was WB/BOW under Breeder judge Regina Blair for a 5 pt major at the post USASA Nationals CASA ASCA show.

FLASH>>>>>>>

Sidney takes WB/BOW for a 3 pt major finishing her ASCA CH.

WAY TO GO SYD and KRISTEN!!!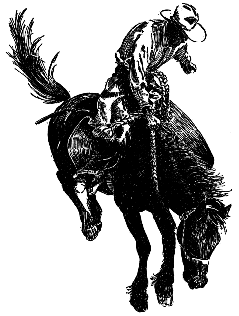 Outlaw Farm & Kennel

"to steal your heart...to steal the show"